March 3, 2021
A STARRING ROLE FOR LG INNOVATION AT BUSAN FILM FESTIVAL
Established in 2011, The Busan Cinema Center is the official venue of the Busan International Film Festival, one of the most popular annual cinematic screening events in Asia. The distinctive building plays host to the festival's celebrity-packed opening and closing ceremonies, but is also now home to another star – LG Electronics' mesmerizing Transparent LED Film.
Installed on one of the expansive windows of the Busan Cinema Center, LG's state-of-the-art Transparent LED Film is immediately eye-catching, stopping visitors and pedestrians in their tracks as they gaze in awe at the vibrant, immense videos and images on displays. The massive installation covers an area of 206 square meters (45m x 4.5m) to create a colorful dynamic panorama that is breathtaking to behold.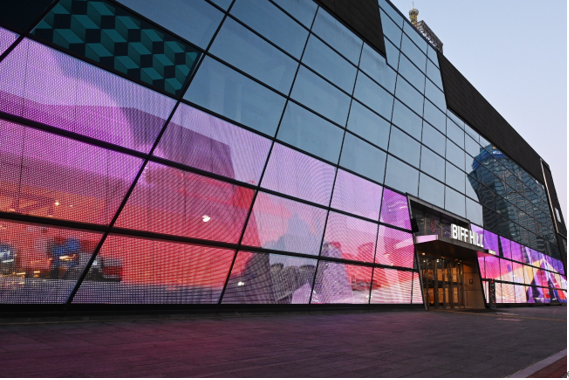 The most remarkable part of LG's Transparent LED Film technology is obviously its transparency, allowing up to 73 percent of light to pass through, comparable to a car's tinted window. When off, the window resembles an ordinary pane of glass but when turned on, it magically transforms into an impressive display of colors that pop and images that can't help but command attention.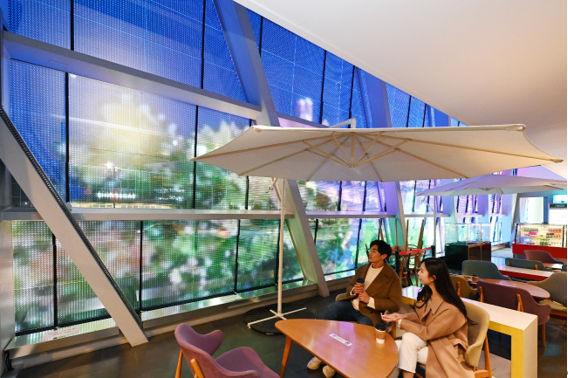 The film's scant two millimeter thickness means that the film can be customize to fit into the installation area. The sense of openness that LG Transparent LED Film delivers makes it an excellent solution for settings as wide ranging as corporate and hotel lobbies, museums, event halls, galleries and shopping malls. And because transparency by its very nature doesn't require spaces to compromise or disrupt their original décor and spatial design, LG's cutting-edge product allows venues to retain their unique aesthetics.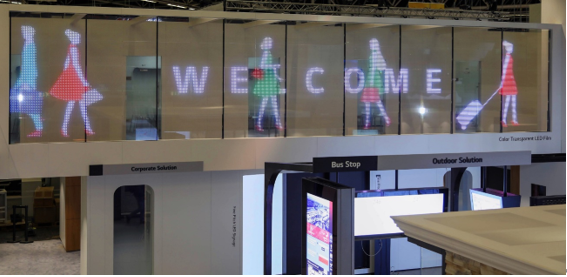 Versatility is built into the DNA of this solution from LG, which can be configured vertically or horizontally, expanded by adding more film or trimmed parallel to the bezel to fit, if required. The thin film can even be installed with a curvature of up to 1100R, providing even more customization options and flexibility for customers. For the Busan Cinema Center, both the left and right edges of LG's transparent display were formed into the sloped sides of a parallelogram to match the shape of the building's windows.

330-meter LG LED Signage at Suwon KT Wiz Park
Adding to the versatility of LG's solution is its suitability for displaying multiple types of content, from advertisements and announcements to video clips and digital art. Able to meet the commercial display demands of a wide range of industries and sectors, LG offers an extensive lineup of signage solutions, including Micro LED Signage, LG MAGNIT, OLED Signage and Transparent OLED Signage as well as other LED options for indoor and outdoor situations.
As the usage of, and applications for digital signage continue to expand, it is likely that the next generation of displays will offer enhanced, interactive experiences that will attract and enthrall audiences in inventive new ways. And as LG is demonstrating at the Busan Cinema Center, it has the technological and design qualifications to play a starring role in this exciting future.
Click here to experience more of the possibilities of LG's Transparent LED Film.
# # #
 * All images and dramatizations are for illustrative purposes only and may differ from the actual product.